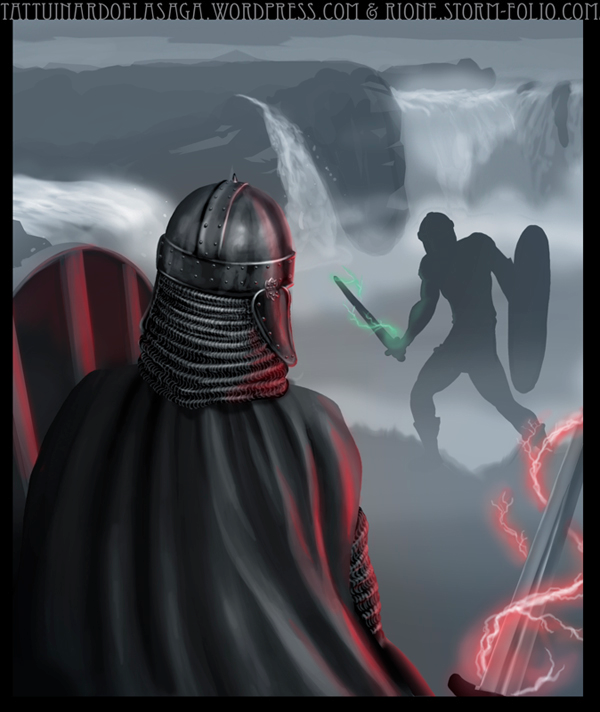 Hva om Star Wars hadde norrønt opphav, og handlingen egentlig var satt til Norge? Tattúínárdǿla saga av Dr. Jackson Crawford svarer på det spørsmålet. Han begynner med en diskuskon rundt kildematerialet:
Earlier this week I was drawn into an enlightening discussion with my colleague Ben Frey about the complicated textual tradition that lies behind George Lucas's "Star Wars," which few outside the scholarly community realize is a modern rendition of an old Germanic legend of a fatal conflict between a father and his treacherous son. Below I present some remarks on the Old Icelandic version of the legend, with some spare comparative notes on the cognate traditions in other old Germanic languages.
For å få det til å virke troverdig, har han som nevnt flytta historien fra verdensrommet til mer hjemlige trakter. Han har også gjort om navnene for å fremstå som mer sannsynlige i en middelaldertekst. Det er likevel ikke alle navn som like lett lar seg forklare:
The etymology of "xwingi" (nom. *xwingr?) is unknown; numerous editors have proposed emendations, but none is considered particularly plausible. It is likely to be another humorous Irish mispronunciation of a Norse word.
I utgangspunktet skrev Crawford kun sammendrag av hvert kapittel, men han ble etterhvert såpass gira at han skrev hele «sagaen» på norrønt, samt en engelsk oversettelse som med vilje er skrevet som en «deliberate pastiche on the old-fashioned English of so many translators «.
Denne teksten dekker de første seks filmene, så altså ikke den nye Star Wars-trilogien. Om dem skriver han i en kommentar » I don't have any plans to add to the saga at this time. It's been a long time since I wrote it, and I think the moment has passed. «
(Rask tilleggsnote: Dette er ikke første gang noen har prøvd å gjøre dette. I 2008 kom Loga Saga Loptgengils på nett. Det er fjerna nå, men du kan fremdeles finne en arkivert versjon.)